Most modern day Christians would, I think, be tempted to balk and perhaps even scoff at the idea of seeking God in the middle of some of the most highly populated cities on the planet. I can't recall any church I've ever been to offering a men's retreat to Skid Row in Los Angeles, or a women's retreat to the Miracle Mile in Chicago. What we typically refer to as "God's country" are legitimately beautiful places: snow capped mountains and sandy beach sunrises. The unfortunate truth of those places is that they are often devoid of God's most beloved creation: people.
For the first time in human history, a majority of the earth's population lives in an urban context, as opposed to a rural context. This phenomenon is most obvious in underdeveloped nations, where urbanization is happening at a shockingly accelerated rate. For many followers of Jesus, this is a troubling reality. Cities are often rife with crime, poverty, drug abuse, and violence. Surely God can't be heard in the cacophony of such noise and brokenness, right?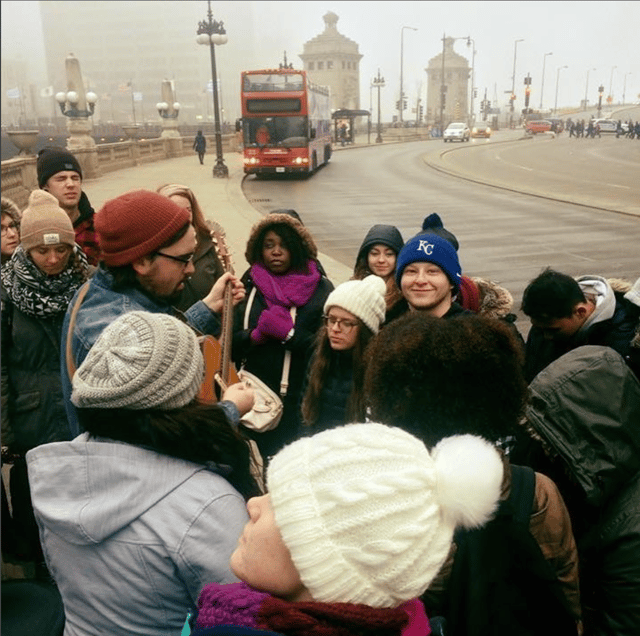 Wrong. I have spent the past seven years traveling the globe, spending the majority of my time in major cities (Chicago, London, Madrid, and Houston to name just a few) teaching missionaries-in-training to hear God in the busiest parts of the city. It's a counter-intuitive process. How can we hear God, who isn't always audible, in the midst of huge amounts of noise and distractions that make even some audible noises nearly inaudible?
As with most things in life, there is no guaranteed formula or Gandalf-esque incantation you can whisper into your Bible or up towards the cosmos to make the very voice of God cut through that incessant jackhammering and taxi-honking and expletive-shouting. But rest assured, God hears You. Take your headphones out of your ears (you've heard "Oceans" too many times anyway), open your eyes, and simply wonder. Ask God to replace your eyes with His, having the faith that He can make unseen beauty obvious, unknown truths resonate, and malodorous stenches (New Orleans seriously stinks, I know) a pleasant aroma as you remember the goodness of God in Your life.
What does God love about that homeless man drooling on the concrete right in front of you? What does God want for that pants-suited businesswoman walking by you, simultaneously sipping her latte and barking orders into her iPhone? Does God have a plan for them like you know He does for you? Let me implore you to do something simple; sit down on the busiest street corner in your neighborhood, take a look at your surroundings, and simply say "God, what do You think?" I promise, He will speak.
And I promise, He will surprise you.
Carve out time and space in your life to experience the Urban DTS. You can be the brightest light in the city making Him known to those who desperately need to know they are loved. Learn more about about our Urban DTS.