Is this the start of another Great Awakening? As believers and missionaries, we have hungered for more of God in our land, churches, families, communities, and schools. Has it begun in a tiny school in one of the smallest of towns in Kentucky? My daughter is there now in the midst of this move of God.
(UPDATE 2.22 — This will be our final update to this published blog. After two weeks of non-stop worship, prayer, and repentance, those who desire to continue to gather in central Kentucky will meet in an off-campus location. It was reported 20,000 were on the campus on Sunday the 19th. After some safety concerns and the sheer volume of people, the revival had spread to two other campus buildings, along with outdoor video streams, where worship and prayer continued.)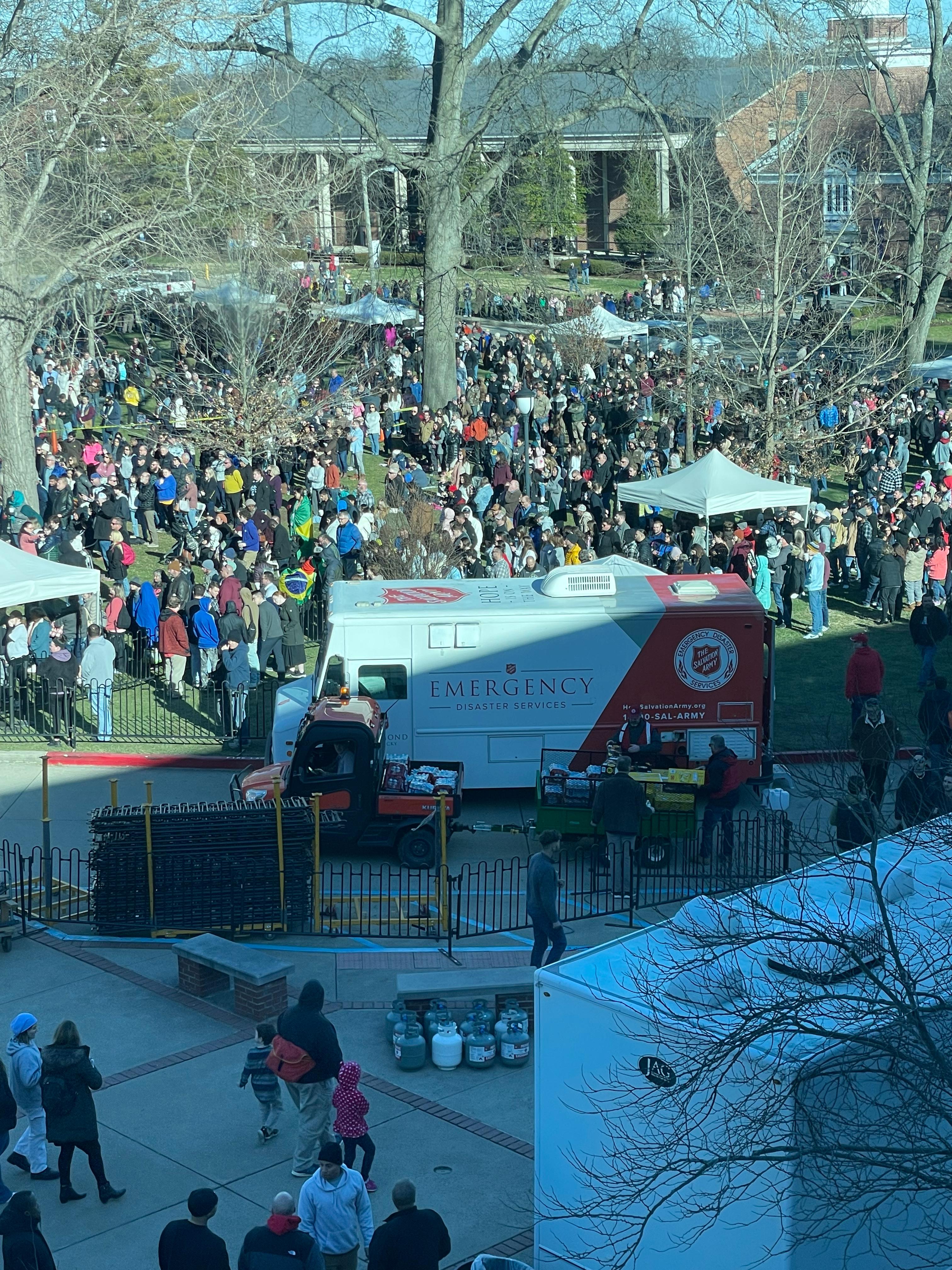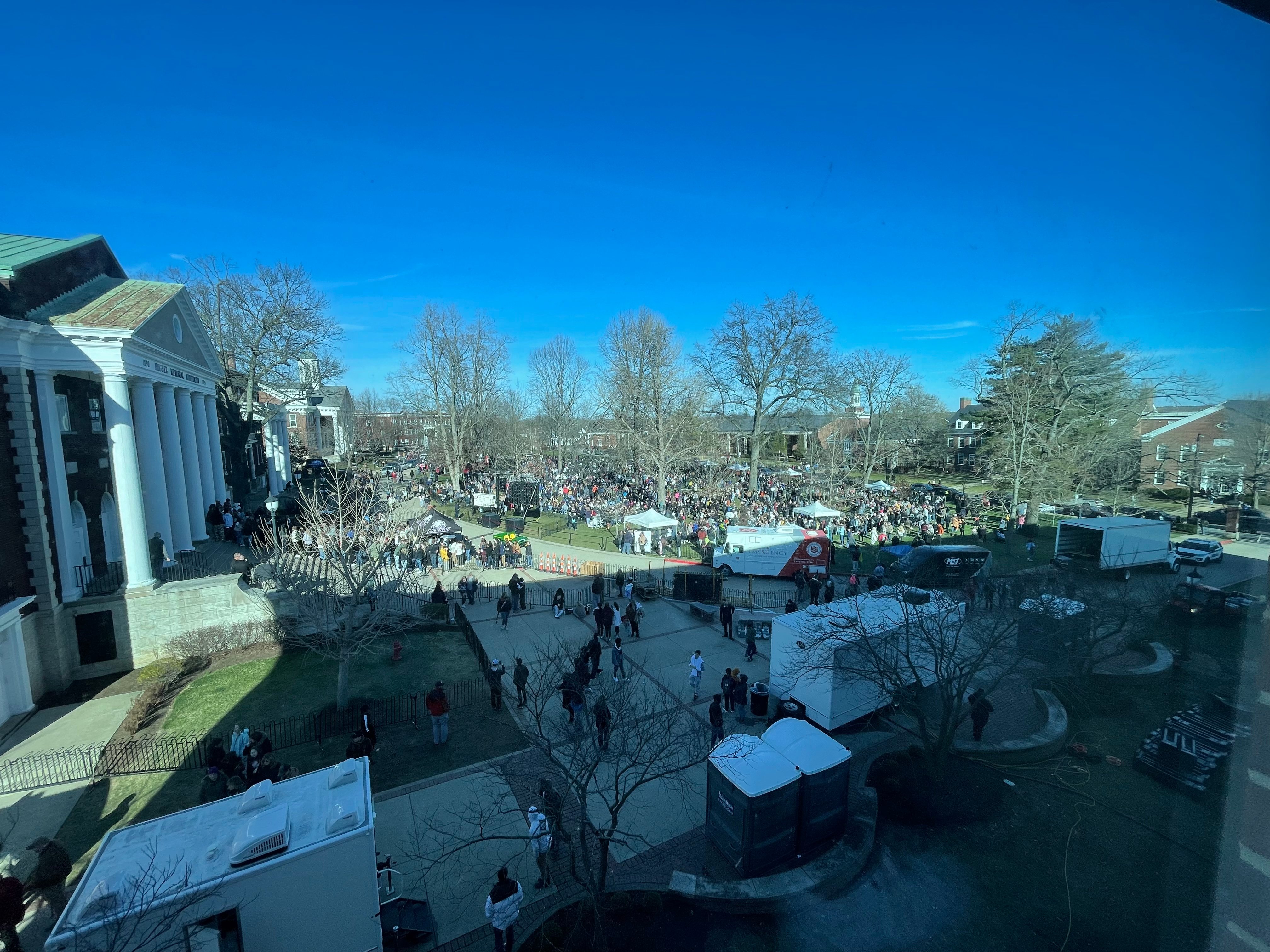 Above: Photos taken 2.18 from the library windows at Asbury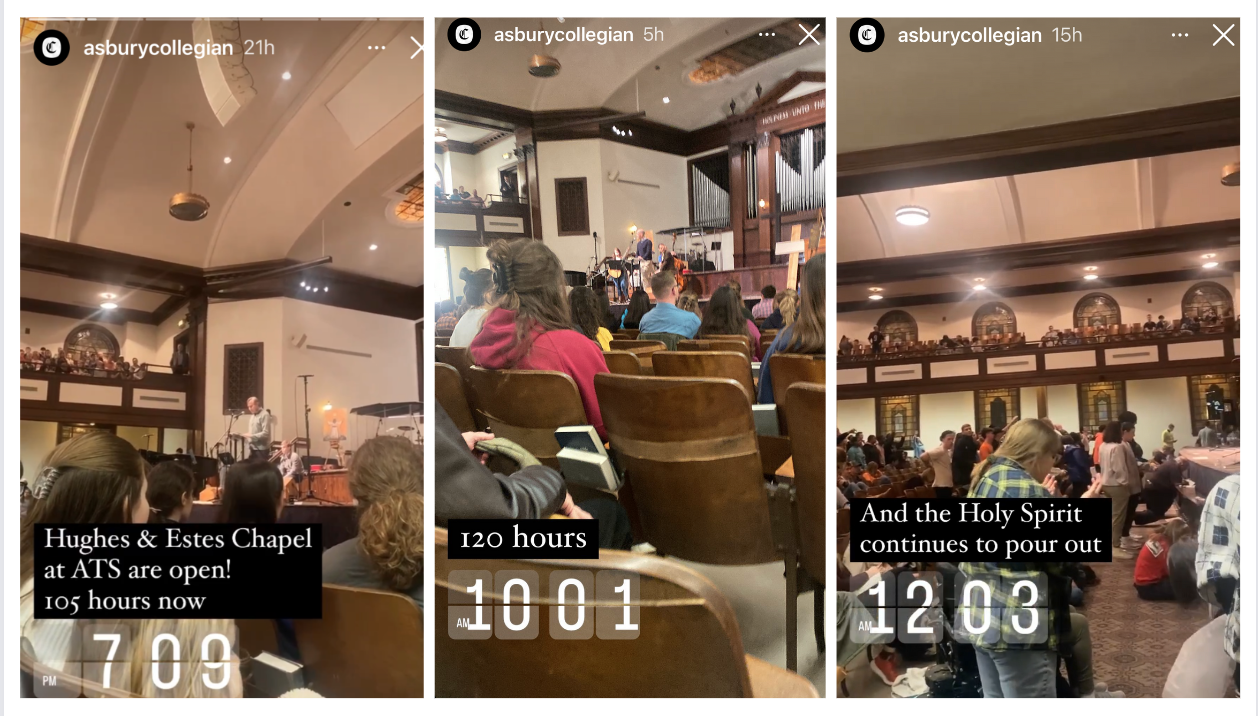 (Above are Asbury's Instagram Story posts showing the continued movement of the revival: Updated 2.13)
Just outside the city of Lexington, Asbury University sits on the rolling plush hills in the two stoplight town of Wilmore, Kentucky. The Seminary, of Wesleyan Holiness tradition across the street from Hughes Auditorium at Asbury, is graced with a bronze statue of John Wesley riding a horse with Bible in hand. The message proclaimed during Wesley's time as a circuit riding preacher helped birth the second Great Awakening of the early 1900's, is the same message stirring the hearts of the students and faculty at Hughes Auditorium today.
This isn't the first time Hughes auditorium was shaken by the spirit of God. In 1970, a similar revival broke out. What was that like? Read more about the 1970's Revival.
Here are a couple of those testimonies:
"I was a student at Asbury in February of 1970, and very involved in the revival and the outreaches that spawned from the outpouring. I traveled to many churches, colleges and countries telling the story of God's visitation to the campus, with always the same resulting outpouring of God's presence and power."
Bruce Roy '71
"Loud shouts of praise erupted from the audience; it was a watershed moment at which I believe the Holy Spirit fell on us all filling that Holy place. It was exhilarating and astounding. I couldn't sleep for three days and nights. I only left Hughes to eat, shower and change clothes all those days. It was just too exciting to miss anything. The praying, the singing, the praises and just experiencing the presence of the Holy Spirit."
Timothy Walz '73
My daughter is currently enrolled in Asbury University. The text messages and videos she's sending us while this outpouring is happening are warming our hearts for more God. This past fall on the last day of registration, my wife and I sat on a bench gazing at the landscape of Asbury as students were setting up for a time of worship. Looking at Hughes Auditorium, we simply prayed for another visitation of the Spirit like those of the '70's.
She writes, "It's crazy what's happening here. On Wednesday, Chapel started and never ended. Food was brought in for meals with water and mattresses too. Some people slept in Hughes Chapel all night. All day Thursday was worship and prayer, and all through the night too. There's been continual worship. I've never heard singing this loud in Hughes before! Hughes is packed with students, faculty, and families from the community.
There is also the annual scholarship competition for prospective students going on right now, so families from various states are here as part of it too. Groups from various schools and colleges are here, from the UK, Ohio schools, and more. I also spotted an elementary school group. Yesterday, I sat outside on the steps of Hughes and watched the people coming in, some parking anywhere they can, some walking up from their homes in town. All ages are here, from elementary school to the elderly.
A common theme for this time has been centered on the cloud of the Lord, like the one over Israel in the Old Testament, and last night a HUGE cloud suddenly surrounded Wilmore. It was so giant that it looked like mountains."
This all began at an ordinary Chapel service on Wednesday, everything has changed. As of Friday morning 2.10.23 Asbury posted this on their Instagram.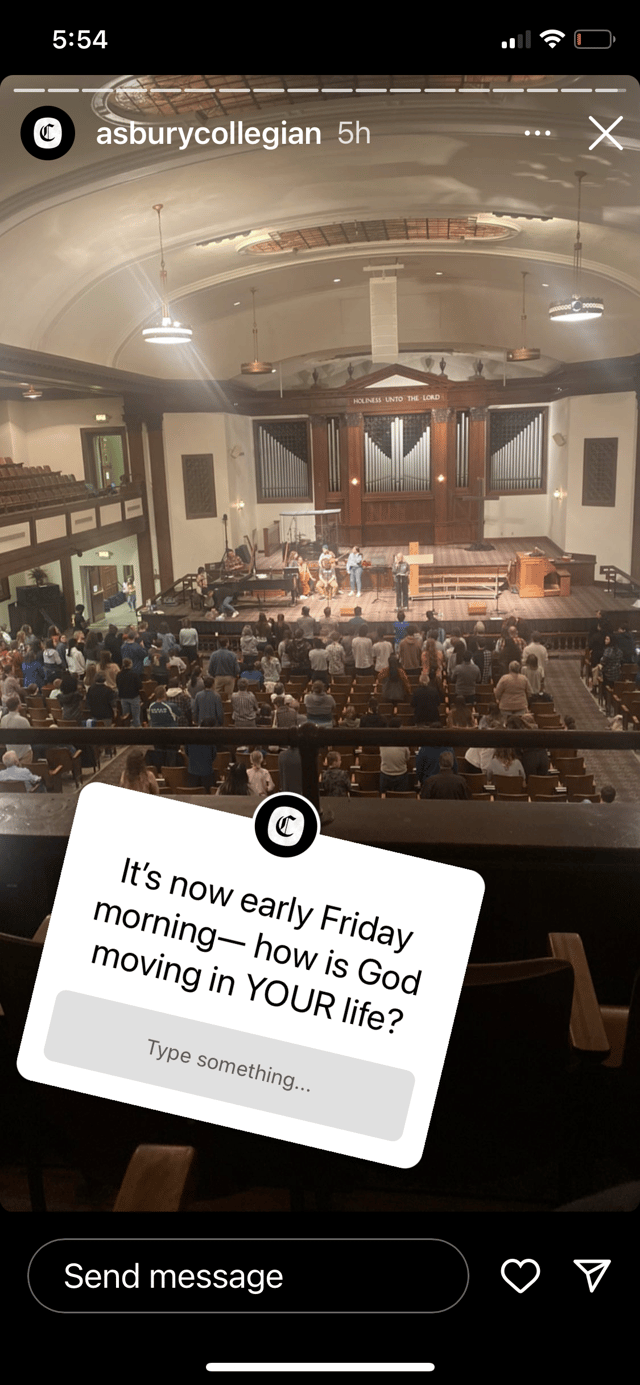 Here is a captured moment of worship led by the students on Thursday. (VC: Audrey Fish)
As the revival continues, students from other colleges are visiting, parents are driving in to experience this with their student, and God is moving on other campuses. Our daughter sent us this message yesterday:
"A professor from Ohio Christian University just came on stage and reported that revival started happening at Ohio Christian this morning and hasn't stopped!"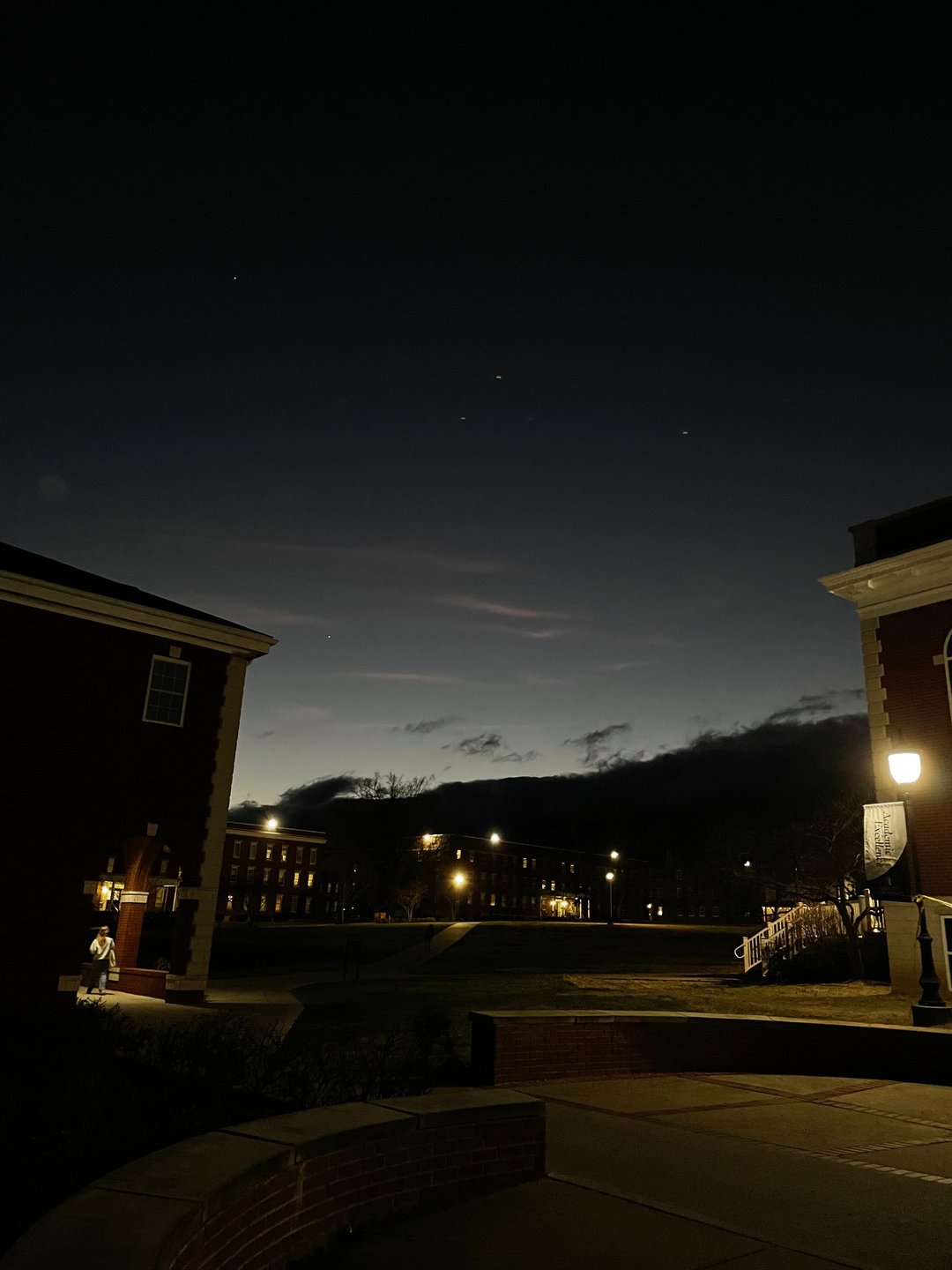 (The cloud over the campus. PC: Audrey Fish)
Here's what others are saying on Twitter.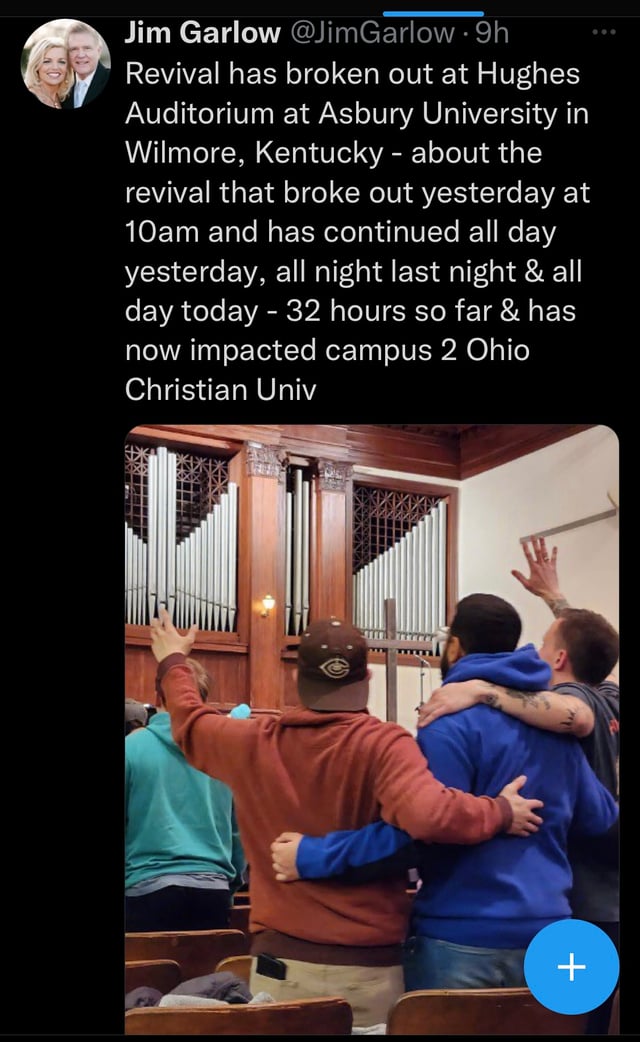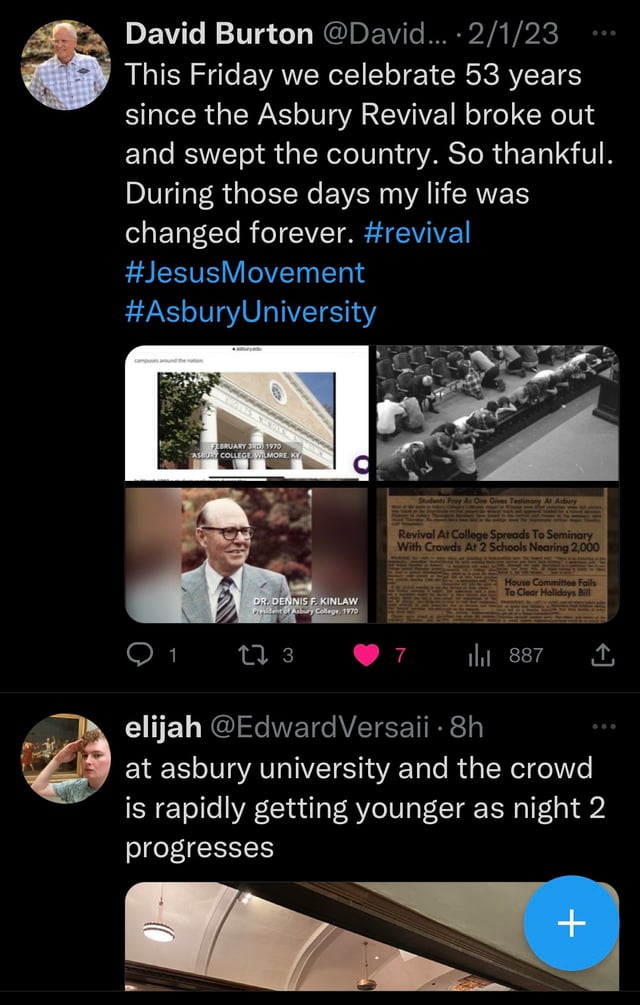 Would you continue to pray, stand in the gap, intercede for students across America to be ushered into God's presence? Let's contend in faith for the salvation of this next generation! God is on the move and now is the time to partner with him.
Asbury posted this a day or two after the revival initial broke out: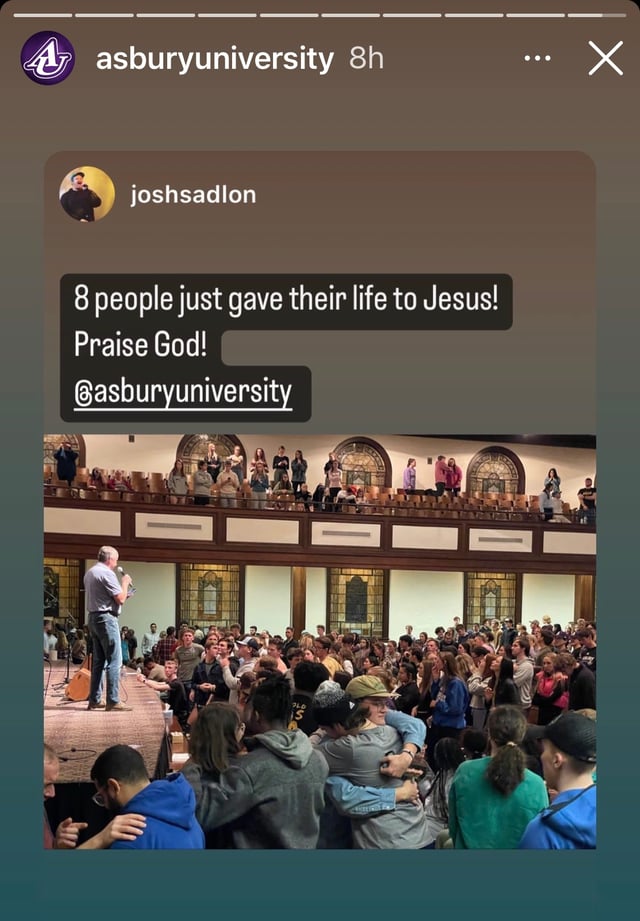 We want to leave you with a challenge as you read this blog today. Would you welcome the Holy Spirit in your circle of influence?
1. Share what God is doing at Asbury and around the world. Share this article to bring awareness of God's work and solicit prayer for this generation.
2. Ask your pastor, worship leader or small group for a special gathering to pray and worship and you lead it. You don't need any special training to gather with other believers and start praying.
3. Go to a university campus near you with friends and pray. Contact the universities Christian clubs and ministry groups and support them with a time of prayer for the campus.
Let's pray the fire continues. It's from moments like these that mission movements are birthed. Youth With A Mission was launched from the Jesus Revolution of the 60's and 70's, and now is the time for a new fresh wind in missions to bring the Gospel to the nations.
We are ready to train you to GO! Sign up for the next discipleship school, have God transform your life, and take His love to the nations.