WHAT I DIDN'T REALIZE ABOUT THE SEX INDUSTRY IN THE USA
A YWAM outreach definitely opens your eyes to what's happening in the world around you. We love taking students on two month outreaches as part of their Discipleship Training School. It's in moments on busy downtown streets, a remote dusty village, on a crowded college campus, where God shows his love for the world.
I was texting with a student on who is currently on outreach and decided to blog our conversation here for you to read. When God opens our eyes, there's just no going back.
My conversation with Joshua started during the stateside portion of their outreach.
Joshua:
This is my team and YWAM Houston praying in downtown Houston a few days ago. We were just really interceding for the city.
Then we went and had Greek food at that place in the back :)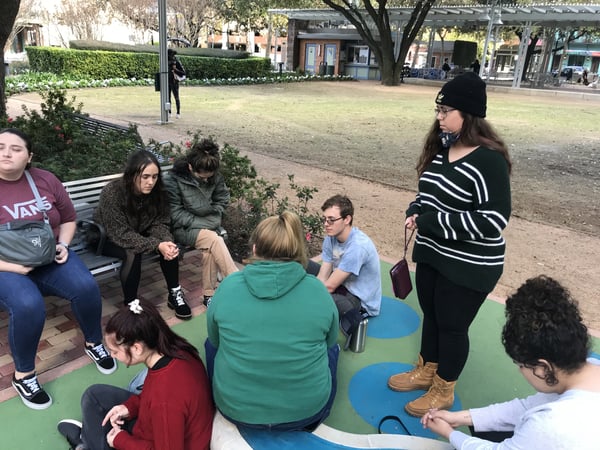 Richard:
What was something that moved you about praying for downtown Houston?
Joshua:
Dude, everything has moved me! What's moved me the most is praying late into the night, like last night, at a bunch of brothels, strip clubs, cantinas, and other businesses like those.
Richard:
What were some results of your prayers you could tangibly see?
Joshua:
Last night we were out past 11, and praying over one parking lot that had three brothels and a cantina. By the time we left the parking lot was at least 75% emptier, it was crazy. People were just driving up to park, then pulling out for no apparent reason other than our prayers.
But I don't have pictures of that.
Richard:
Can you summarize what your prayers have been?
Joshua:
Over the sex trafficking stuff?
Richard:
Yeah.
Joshua:
Mostly a release of value for the girls, for something to cause the establishment to shut down, the guys going in to feel convicted and realize what they're doing is wrong and that they would just leave, which happened last night. We were at that one parking lot for at least an hour. A lot with value though. Also that the guys there can start seeing the girls with the value they actually have and not just objects to be obsessed over.
And we prayed for a bouncer that let us stay and pray there. We prayed that God would speak to him, and give him someone in his life that can impact him and bring him to the Lord.
Richard:
How do you feel as a guy praying about these types of things? I know the sex industry is driven by men. What has God spoken to you about in that regard?
Joshua:
Honestly, I feel angry that I used to support something like this and I didn't even know it was this big a problem within the states. My eyes have really been opened to it in the last week and it just makes me disgusted that I ever wanted to watch porn or anything that ended up supporting the sex trafficking world.
And it's really frustrating that the police can do so little about it.
But as a guy I'm really happy I got this chance. Friday we are going to go pray over prostitutes on the streets and I'm really excited.
I guess that's tomorrow.
Just a heads up, we're about to eat breakfast and we decided to have no phones during meals, so if I just disappear that's why :)
Richard:
WOW! What do you think about YWAM Houston? If you could point out one great thing about them what would it be?
Joshua:
Martin and Kim Dale are the leaders here.
Just, everything they are doing here with the street church and the homeless. It's just a never ending stream of God's love pouring out of them
—The conversation resumes the following day—
Richard:
So, how did it go last night?
Joshua:
Man, last night was just amazing!! Just walking the streets and praying for those girls.
Even though most declined, it was so worth it for the few that allowed us to talk to them and pray for them. Even talking to the guys there who were scoping the girls out was so worth it.
We were out past midnight.
Richard:
Wow. That's a great report!
Joshua:
Everything I'm doing right now with my whole life, from when I started DTS, is to further God's kingdom and for His glory.
______
This was just a simple conversation over our phones, but I realized how powerful one moment serving on the streets in Houston can affect someone's perspective on the need for God's love to be shared with others.
If you read this conversation to the end, I want to encourage you to access over your own life, hear from God, and obey what He's telling you to do. I personally think a Discipleship Training School would be a great first option to discovering your passions and purpose. I'd love to personally talk to you about how to make that happen. You can reach me by email at richard.fish@ywamtyler.org.