2020 is the Year of the Bible
My heart was deeply moved the first time I heard there was a detailed plan and strategy for every person on the planet to have a Bible in their language.
What would it take to get the most important book of all time, into the hands of all people? In every dialect? Talk about a big, hairy, gutsy goal! Well, I'm learning we are living in an unprecedented time in history where that very goal is about to happen.
What will it take? Where does it need to happen? Who is working on this? When will the goal be reached? These were just a few of the questions rolling around in my mind.
This year on January 8th, I found myself surrounded by YWAM Tyler's Strategic Frontiers leaders, and members from the Wycliffe organization. What I didn't realize, was that 50 years ago five couples had moved to Ecuador to reach an indigenous people group called the Aucas.
On January 8th, 1956, five men giving gifts, supplies and Bibles to this savage tribe lost their lives. Though hope was initially lost after the missionaries were murdered, the ministry to these unreached people continued, and today the Auca tribe worships Jesus, reading from Bibles in their heart language. (Watch Steven Curtis Chapman tell the story.)
That was over 50 years ago! This relentless passion to see the most powerful, life changing book ever written placed into the hands of every person on the planet continues. What I learned about this movement changes everything.
Last year in 2019, I had the privilege of watching Mark translate the New Testament into the heart language of his people group from Bangladesh.
After being orphaned and surviving the perils of the Bangladesh jungles, Mark found Jesus in the most incredible way. Furthering his discipleship through YWAM Tyler training, Mark has dedicated his life to making Jesus known to his own people. His tireless work translating the New Testament was celebrated last year and 1,000 copies were made available to many who'd never heard the name of Jesus. You can partner with us in getting more copies made. We need 50 thousand copies and, we are poised to get them distributed. Request information about this project at info@ywamtyler.org.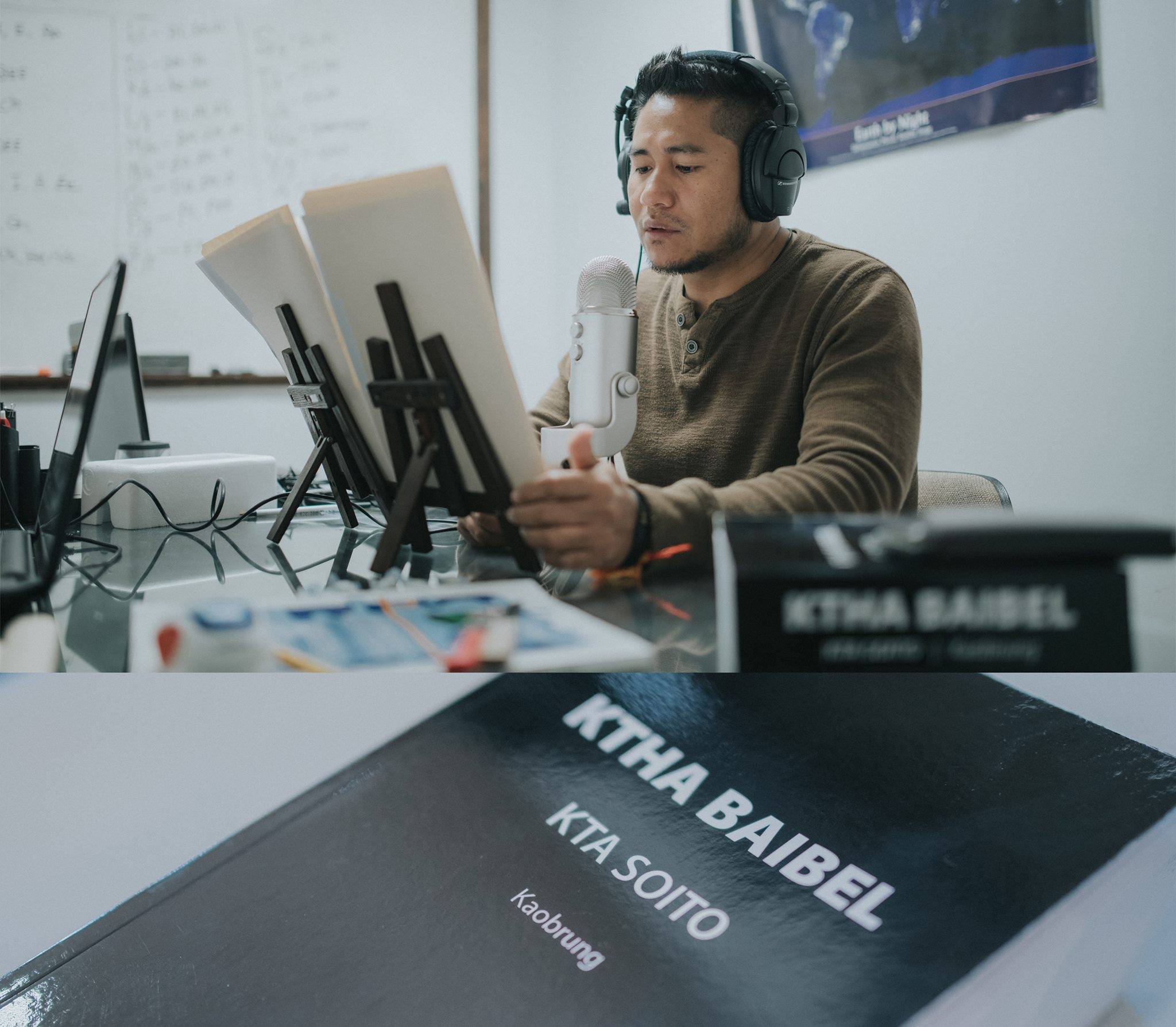 (Mark has also been working on audio translations)
The movement is End Bible Poverty Now. As organizations and partners join hands to reach this common goal, we must pause and thank God for His faithfulness. This time in history is like none other as we combine forces and resources to do what Jesus commissioned us to do - tell the world about God's love.
You may be thinking, "Really? Is this even possible? Can we get Bibles to every faraway place?" I asked the same daunting question until I heard the statistics. The day is fast approaching when we will finish this task!
( #bibleyear2020 ~ Year of the Bible)
Like massive ship ropes, new partnerships have anchored this movement. Wycliffe's progressive innovations in Bible translating are propelling us toward the finish line. With around 3000 remaining languages to tackle, multiple organizations equipped with tools are training workers and collaborating like never before.
Want to keep track of how we are doing? Progress.Bible is a one-stop source to track real-time progress in what's happening around the world.
Remember, Jesus has called us to this task. It's more than a good idea -- this is a movement to see the Great Commission fulfilled. With every Bible distributed, the message of the Cross is shared and prayers are prayed.
Three weeks ago our campus director, Chris Lascelles, shared a passionate message on "Changing the World." I didn't know what to think at first. It's not the first time someone has challenged people to be change agents for God's glory. But this was different.
Changing the world isn't about doing some incredible, global, trendsetting activity. Change comes when people change the way they think. Changing the way we think happens by renewing our minds through the word of God. This is the beginning of repentance, and this is the message of Jesus when He said, "Repentance for the forgiveness of sins should be proclaimed in My name to all nations." (Luke 24:47)
As Chris wrapped up his message, he called up 7 missionaries, who I get to work with at YWAM Tyler, and asked them to read a favorite portion of scripture in their heart language. I didn't understand the sounds and dialects resonating in my ears, but the passion and love for God's word heard in their native tongue won't easily be forgotten. (Watch and Listen)
If you've gotten this far reading this article perhaps there is a tug in your heart to do something. A lump was in my throat on that Sunday night and I sensed it was time to engage. This article is one part in bringing awareness, and we will continue to update this blog as we draw closer to the goal.
Another partner in this global movement is The Joshua Project. They have been compiling mountains of data to reveal detailed information, such as areas needing language translation, and stunning photos of Bible impoverished people groups. Where do you go from here? Step one is signing up to pray. Prayer changes things and changes us. Praying for the peoples of the nations, the translators, the distributors, the organizations, and while you are praying, ask the Lord what He wants you to do.

End Bible Poverty Now is equipping people to get off their couch, stop scrolling and partner with God in sharing His love with the nations. YWAM Tyler is a partnering campus who actively engages students and staff with life changing trips designed to get Bibles to people around the world.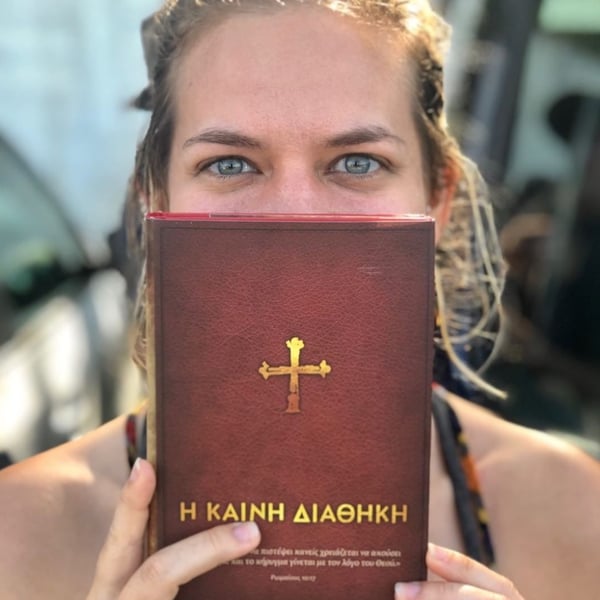 The warm, friendly smile Jessie received after handing someone their very own Bible changed her heart forever. Her team from YWAM Tyler endured bumpy van rides on winding roads through fields to find unseen villages. They stood in the bustling streets of Greece, long after the sun disappeared over the Mediterranean Sea, to simply hand-deliver Bibles.
Working with Operation Joshua was a beautiful partnership providing help to distribute Bibles in key places as they loved on those God placed in their path. Jessie shot this video that gives a glimpse of their team preparing for a day of Bible distribution.
Operation Joshua recapped their ministry times and our team was included in their footage.
We are YWAM. We are willing to go to the hard places. Our training schools not only draw people closer to heart of Jesus, but they offer a chance to invest in the lives of others who don't know God's love. Consider this challenge: Will you carve out space and time in your life to go deeper in knowing God and making Him known? Come experience a Discipleship Training School and change the world.
We are calling both young and seasoned people to activate their faith, be discipled, and latch onto a strategic plan to become a part of this movement. God is raising up this next generation to participate, not sit on the sidelines.
Recently, a young person told our Strategic Frontiers Team how she has deep desire to learn the Arabic language. She's getting ready to graduate from high school and now she's looking into YWAM training to use her passion to help get the Bible into the hands of Arabic speakers.
The thrill of reaching this goal increases as the work of Bible translation and distribution improves. The Seed Company, a subsidiary of Wycliffe is constantly tracking how we are doing as we approach the end goal. Stay informed and share what's happening.

During that January 8th meeting, I was wrecked when I understood the healing power of the Bible whenever it is applied in the lives of those afflicted by trauma. Refugees from war-torn nations long to find needed support, safety, and the simple gift of love. Nurturing those who have been hurt by abuse and neglect, into wholeness and freedom is at the heart of the Gospel. Trama ministry is a wide open door and waiting inside are hungry people longing for truth.
Learn more about Trama Ministry and Bible translation.
"Ethnoarts" ⎼I had also never heard this term until this recent meeting with Wycliffe. Sharing the Bible through culturally relevant ways like dance, art, worship and music is at the heart of ethnoart translations.
I recently interviewed a YWAM Tyler staff member, and a current student in our training programs. Both dream of integrating arts and missions. Before the questions rolled off my tongue, their eyes became bright with passion about this subject matter.
Do you have passion for the arts? Want to experience integrating missions with your calling? We would love to talk to you. Send us an email at dts@ywamtyler.org and share your thoughts, or visit Performing Arts and Missions. God is using the arts to reach the nations.
Believing that the day will come when every person on the planet will possess their very own Bible may be one big, hairy, gutsy goal. But we are reaching it. With the collaboration and innovation of many global ministries, and people who are saying "YES" to serving in missions, we will celebrate God's faithfulness to the ends of the earth.