In 2012 I reluctantly attended the School of Evangelism (SOE) at YWAM Tyler, which traveled to Greece, Germany, and France for outreach. You see this school was part of the launching in becoming a missionary; however, I had no desire or plan to do that at all. I was back and forth with God about what He wanted me to do in the future, but because I love Jesus and because I wanted to honor Him, I obeyed and did this school.
When we traveled to Germany in the middle of our outreach, God challenged me to be willing to be vulnerable with strangers I met about what God had done in my life. That week we worked with a youth camp, which was focused on hearing God's voice and evangelism.
The first day God asked me to go and pray for this girl. As we started talking and I asked her what I could pray for, I found out she was fifteen and just recently experienced the loss of one of her friends. Just the year before I lost a friend to an accident and immediately understood why God led me to her. We wept together that day, and I encouraged her in the truth of God's goodness and His promise of being with her in this time of grief.
Every day for the rest of the camp I hung out with that girl and told her everything God had done in my life and especially since I had done a DTS. Through the experience God shared His heart with me about discipleship and why He had called me into missions.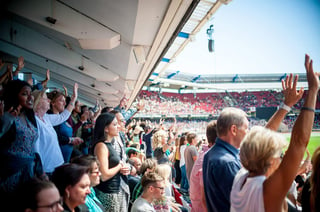 Fast forward three years. I did become a full time missionary and started working with training schools just as God had asked me to do in my SOE. I even got to travel back to Germany as a staff of an SOE I was working with. With no hope of meeting up with my young friend I met several years before, I still prayed & begged God to make it happen. Sure enough at a conference we attended with 25,000 people in a smaller city of Germany, we found each other. Guess what? She was scheduled to do a DTS with YWAM that fall and is now a missionary too. Who knew that God had a plan for me which included His plan for her? I sure didn't.
Is God calling you into missions? Find out more about DTS and SOE training schools at YWAM Tyler.