COVID-19 UPGRADED MY PRAYER LIFE
For the longest time, I prayed to Jesus. Now I use a different approach, and it's even better. I've found I can pray with him.
Through a beautiful thing called intercession, we can pray with Jesus about what is on his heart. Jesus is at the right hand of God, interceding for us. Jesus himself spends eternity praying for you. If understanding that doesn't wreck your world, I don't know what will.
Ezekiel 22:30 describes God looking for someone to "stand in the gap" between himself and mankind, on their behalf. Intercession is standing in the gap beside Jesus, to pray with him as he prays for us as individuals, the world, for nations and people groups.
Amidst the chaos of Covid-19, we had to Livestream our base worship service on Facebook instead of holding it corporately.
I assumed this setting would restrict the flow of the Spirit, and create a feeling of disconnect from the people watching. We asked them to write their prayer requests in the comment section during the Livestream. As they popped up, we would pray for them.
I sat back and prepared my heart, asking Jesus to show me how to stand in the gap with him.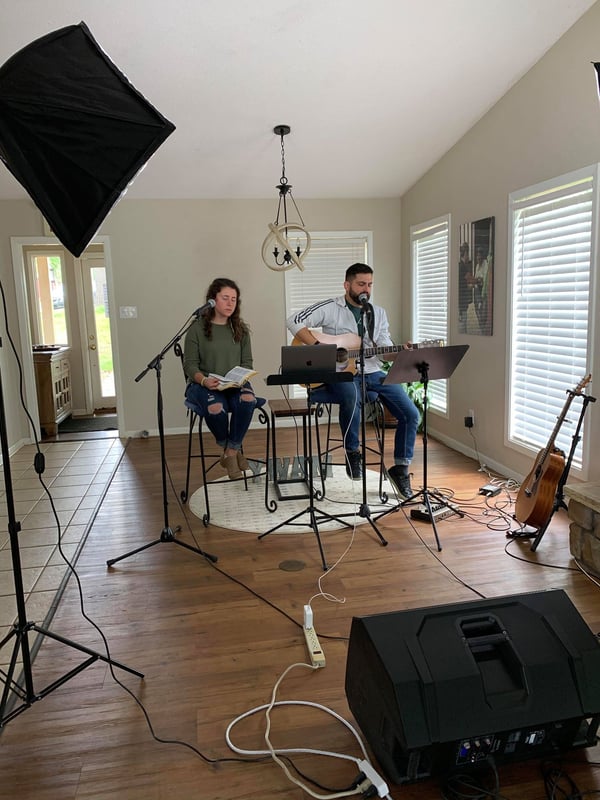 People in real-time presented requests. I waited on the Holy Spirit to lead me on how best to pray. Two or three requests came in during my hour-long time slot. While I worshiped and prayed, I could feel the presence of Jesus standing beside me. What a beautiful feeling, to stand in the gap beside Jesus, to pray with him, not just to him.
It is so indescribably beautiful to be able and willing to pray with Jesus to share the burdens he has on his heart. In this process, I have found myself understanding more about how God loves us.
Daily I am challenged to change how I see others and instead look through the eyes of Jesus. Praying for those around you becomes second nature, as you understand the Father's heart for each of his children.
Challenge yourself to stand in the gap with Jesus and seek his heart.
If the topic of intercession interests you, I'd recommend Intercession, Thrilling and Fulfilling by Joy Dawson.
---
You too can grow in your prayer life and hear God's voice. The DTS is a great place to start in your personal discipleship of getting to know God more intimately. We hear from so many who truly desire to deepen their faith and experience lasting transformation. If that's you, learn more about our next training program.