It's a sweltering humid day as we pull up in the street amid piles of rubble. The homeowners, an older Hispanic couple, approach us with shy friendly smiles and greet us in their best faltering English. Their front door sits wide open, inviting us to enter their North-East Houston home.
I walk slowly, taking in the reality of this dear couple's living situation in the aftermath of Hurricane Harvey. Every wall in this house has been stripped bare, beams exposed like a skeleton. I can see right through from the front room to the back in a single glance. The ceiling, too, is gone, with floors being nothing but bare concrete. Mountains of ruined dry wall, cabinets, furniture, and a lifetime of gathered possessions smolder in their dampness on the road verge, awaiting collection by city workers. Meanwhile, my new friends spend their days in their moist garage on a camp stretcher, battling mosquitoes, surrounded by what little remains of their worldly goods since Harvey's floodwaters drained away.
How can this older couple possibly begin the process of rebuilding, with physical limitations and without the fallback of flood insurance? How can they face this mountain without being overwhelmed by the magnitude of what they've lost? Where will they find the money and manpower to do what is needed?
YWAM Tyler (through our satellite ministry of YWAM Houston and our international relief ministry MercyWorks) in partnership with churches across the nation has responded to the desperate need of families just like this one. On this October day, we came with a packed trailer of sheetrock and insulation, which I helped unload into the gaping emptiness of this house. The sheetrock was heavy and the day was hot, but our elderly host jumped in to help bear the load while our hostess hurried to bring ice-cold water bottles from the ice-chest out back in appreciation of our muscle and sweat.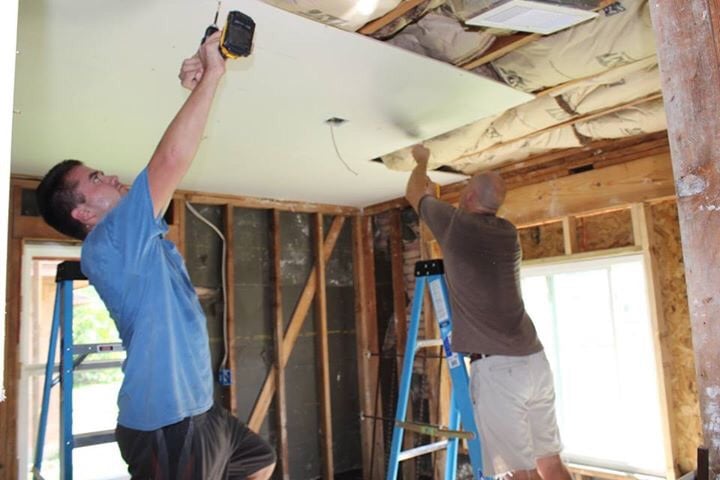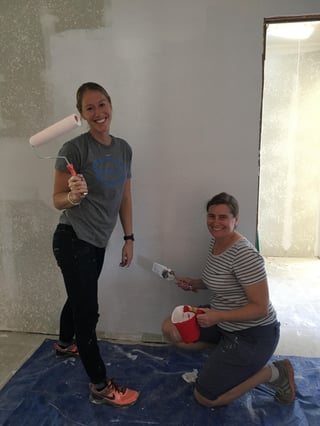 The skilled tradesmen on our team got straight to work, measuring, cutting, positioning and securing the new ceiling with painstaking care. It took several weeks, during which the faces of the work-crew changed periodically as volunteers committed as much time as they were able. I returned once the new ceilings and walls were complete, armed with paintbrush and roller to apply primer in preparation for painting. Each day, our grateful hosts prepared breakfast tacos to sustain the willing workers. We would pause our work to fellowship around their makeshift table, run to the local gas station for a rest-room stop (due to lack of an operational bathroom in the home), then crank up the worship music and begin our work once again.
Day by day the work progressed with the additions of baseboards, ceiling fans, kitchen cabinets, and bathroom fixtures. The house began to revive and the smiles on the weary faces of its owners grew wider. It was a resurrection, not only of a family's home but also their hope for the future.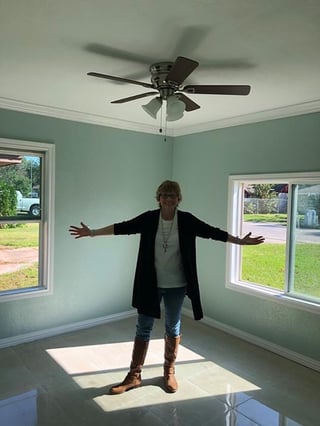 Last time I visited this home, I was greeted enthusiastically by my friends and given a proud tour. The house looked amazing – unrecognizable from the empty skeleton I had first walked through. I celebrated with my friends, feeling honored to have been a small part of their story of restoration. We gave them a Spanish copy of John's Gospel to read together, encouraging them to consider what Jesus has done for them.
God is truly doing a powerful work in this community as His children come here to serve in love and compassion for our neighbors in need. It's a long, slow process, rebuilding one home at a time. YWAM Tyler expects to be working in this community for at least another year, possibly more. The message of the hope of the gospel is being extended through willing hands, generous sharing of resources, and the witness of those who carry the name of Jesus into this hurting community. Bibles are being distributed and the message of salvation in Jesus Christ is being shared at every opportunity.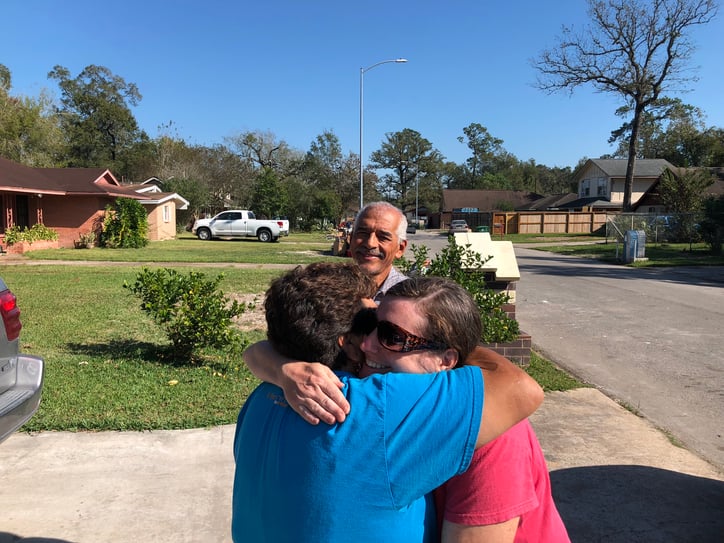 Do you want to be part of this story? Here's how …
We have completed six homes to date, at an average cost of $5,000 each. Close to 800 homes in this neighborhood still remain in disrepair. Your family, church or business can adopt a family and help rebuild their home!
There is a desperate need for skilled laborers to give of their time to serve Houston. We particularly need people who know how to hang sheetrock, doors and trim, or can texture and paint walls. Call toll free 1-877-66-Mercy to find out more about how you can get involved and check volunteer opportunities on their website MercyWorks.org.
Donations can be made online at MercyWorks.org or send a check to;
MercyWorks – PO Box 3000 – Garden Valley, TX 75771.
On Saturday December 16th, Community Christian Fellowship of Lindale will be partnering with YWAM to put on a HUGE free Christmas party in this neighborhood. Please pray that many families who were impacted by Harvey will be drawn to this event to be encouraged and blessed with the joy and hope of the Christmas message.
YWAM Tyler missionary training schools can help you begin a journey to know God and make Him known to those in your local community and around the nations. Learn more how you can join this movement.