Summer of 2013 is when the depression started.
10th grade was my last year in Poughkeepsie High School, and I'd be going to Faith Christian Academy for 11th and 12th grade. The summer in between I didn't have one friend. Yeah, I knew people, tons actually, but I didn't have a friend, one I could just call up to hang out or vent to, one who knew me or my family, or vice versa.
I grew up a believer, 100%, although I never knew anything about an actual relationship with God. But I never doubted the existence, truth, or power of God. That summer I was so alone. Everday, I felt the newness of the morning but quickly was reminded that nothing had changed as the day went on. I'd even get ready for the day, excited and hopeful something would happen, and then it would start getting darker and I was still alone in my room.
Something productive for me was to take walks to the park and just sit there staring and thinking. Yet, during all that, I was still very lonesome and bored. From that stemmed self-hatred, hopelessness, and worthlessness. I lost my personality and felt smaller and lamer than anything, and all the while I blamed myself.
Sadly, nothing changed throughout 11th and 12th grade. Yes, I finally had friends but the loneliness, depression, and self-hatred still ate me alive. Honestly, 11th and 12th grade were the worst years of my life. I frankly didn't want to exist anymore. During those two years, I also was in love with someone who wouldn't even give me the time of day, which penetrated deeply and made me all the more broken.
After graduating high school and finally maturing and moving on for the most part, I was at a much better place than I had been in three years. School fed the depression terribly, so once I was done, I finally could do whatever I wanted, and that was sweet at the time. I had some good friends, ones who liked having fun and included me. However, the depression was still there. It lingered. Every day, every second, surrounded with people or alone, all I had to do was be silent for a second to know that the black cloud was right there. It remained for two years too, until I sat under Roy Sandiford's teaching on The Divine Plumbline at YWAM Tyler's Discipleship Training School.
It was time for the sadness to leave...for good.
As the week of teaching went on, this desire became more real than anything, I had fallen victim to rejection and depression, and I was ready to be rid of it once and for all.
Roy asked at the end of the week who wanted to walk through the prayer time in front of the class as a model for the small groups that would break off later that night. I didn't know what that meant at all, but whatever it was I didn't hesitate to step out of my comfort zone and grab whatever was being offered. I'd have to share my testimony and just talk about myself and the stuff I was dealing with. I could do that.
As I walked into the room that evening with the lights dimmed, I was already crying. I don't know why, and I couldn't stop. Through worship, I was just a mess, but deep down, I knew I was going to be healed that night. I didn't even really know my testimony, so as I started sharing about my life, I shared some significant hurts that had happened. It was emotional. At the end of my talking and sharing my story, I was then going to get prayed over by Roy, as well as others who had gathered around me, about seventy to be exact, with their hands stretched towards me. Roy's prayer echoed the cry of my heart that night. Everything he prayed for me, I wanted for myself.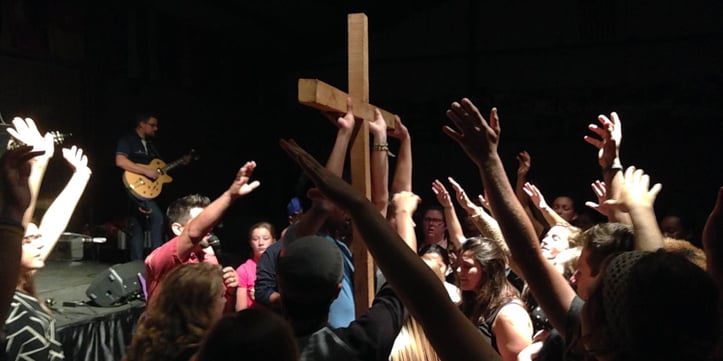 With my eyes shut and hands open in the form of receiving, I suddenly felt something disperse from deep within my chest. I opened my eyes fast because I actually felt it physically. The heaviness I had been experiencing for so long was gone. The Lord healed me from depression that night. The dark cloud that had floated over me and followed me everywhere was finally gone, and since then it's never returned.
No longer do I struggle with depression. I am so thankful for all God has done in my life. He is forever my healer.
"Yes! The Lord my healer has heard all my pleading and has taken hold of my prayers and answered them all." (Psalm 6:9 The Passion Bible)
YWAM Discipleship Training Schools have two distinct purposes: To know God and to make Him known. Jesus brings healing to the dark places within and gives renewed vision for a tomorrow filled with hope and a future. If you're longing to know God more and in need of life change yourself, then join us here at YWAM Tyler for an upcoming DTS.