The chilly air in the theater lobby reminded me I should have brought a hoodie to stay warm. As my wife, and the 16 year old young man we invited to watch this film with us strolled past the marquee, he asked, "What kind of movie is this, anyway?" That's fair. The photos of hippies and what looked like a Jesus type character decked out in psychedelic garb made it clear this would not be a Liam Neeson thriller.
I shrugged and said, "Consider this a history lesson on Christianity in America."
I was completely wrong. This film was not a history lesson but a master class in how history is made. Glad I forgot my hoodie as well. My heart was pounding inside my chest most of the movie with a deep sense of hot inspiration⏤this could happen again!
If you didn't get to the theatre to watch "Jesus Revolution," this a must see when you can stream it. Go head and plan the party, invite your friends, and make the snacks. You're gonna want to watch this with them.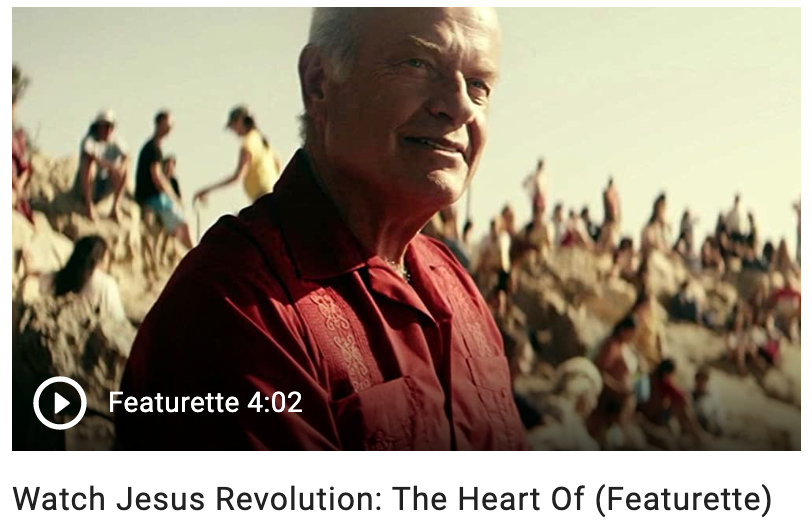 It took a few days for my emotional dust to settle after getting all stirred up over this film. In reflection, I'm asking a few deep questions of myself and perhaps you can jump into some soul-searching yourself.
Jonathon Roumie plays the character of Lonnie Frisbee, a noted evangelist and minister in the Jesus Movement. In the movie he leans his hippie self toward Chuck Smith, pastor of Calvary Chapel, and simply says, "So, I ask you, pastor, what would it take for you to be desperate?"
This single question was a turning point and I believe is the question we should all be asking ourselves. What will it take for us to become desperate? Jesus said "Blessed are those who hunger and thirst for righteousness, for they will be filled." (Matt 5:8) Do you sense an emptiness in yourself? Do you see emptiness in others? When will we finally say, "I need Jesus more than anything else."
Director and writer of "Jesus Revolution," Jon Erwin shared in a recent interview at a Liberty University convocation, "I just feel in my soul that God's going to do this again, and he's going to do it in your time and in your generation," Erwin told the students. "I just think God's going to show up in a big way." (Liberty University)
Through the Jesus Revolution film and its characters, we understand the lostness of youth at that time. Their pain points in life were real, and they were seeking for answers they didn't find in drugs, sex, or rock-n-roll. It was Jesus who was the truth they were looking for, and they found Him.
This generation today has it's own pain points⏤those deep desperate questions they long to answer and seek solutions everywhere but in Jesus. I'm not sure I can identify them clearly. Perhaps you can name a few issues you see but still grapple with...what is the pervasive lostness of this generation? Why aren't they "coming to church?" What do we do?
If I can learn from history to not only avoid the mistakes of the past, but also embrace what it takes to see an awakening reborn, I think I'll understand why this film moved me. I want God to make me desperate. I want to be completely available to minister God's love to a lost generation. These can't just be words. It must be a lifestyle.
Are you all in to see God do this again?
---
May we all draw closer to Jesus. At YWAM Tyler, we provide discipleship for all ages, who then are prepared to disciple others. May another revolution to turn to Jesus begin with each of us today.