In March of 2009, a small team from Youth with a Mission Tyler, Texas, called Take Action, visited my local church. At the end of their program, I found myself at the front of the sanctuary, on my knees, with someone praying out loud and over me. I can still remember hearing them praying, "God I pray that this young man would have the spirit of wisdom and revelation in the knowledge of You; that you would open the eyes of his understanding, and that he many know what is the hope of His Calling, of the riches of glory in Christ Jesus."
Back at church the next morning, I listened to a message about God being an all consuming fire, and that we have a choice to follow him or not. The Holy Spirit convicted me in that moment, and I gave God my choice. My prayer began with, "Okay, God, I give up," and ended with, "Wherever, whenever, however you want to do this thing with me, tell me and I'm gone."
Within six months I left home, joined a Disciple Training School in Budapest, Hungary, and heard a teacher describe how their family moved to pioneer Youth with a Mission Serbia. For the next three months, not one day passed without God saying something to me about Serbia. Little did I know, this was the beginning of a life calling.
After a short visit to YWAM Serbia, in June of 2011, I determined to return and serve as a missionary there. Now after five years and counting, I've fallen in love with the city of Uzice, Serbia, and believe God's accomplishing His heart for this region of the world.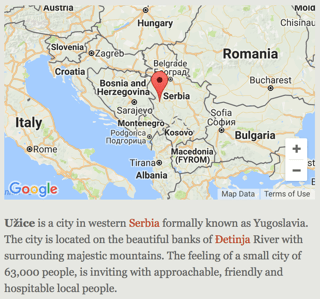 In April 2016 YWAM Uzice opened a cafe/ministry centre named Crossroads. Through this ministry we seek to reach the people of the city through English and Spanish Clubs, Cafe evenings, and Cultural Events. The biggest success story of our centre so far has been the cultural events - these are a great tool in encouraging people to engage in different countries and cultures in a safe space.
As you may know, Serbia has a long and sad history of war and division. It's had 3 names in the past 25 years alone - Yugoslavia, Serbia & Montenegro and now, Serbia. This can cause people here to be inward focused and almost suspicious of other cultures and people, especially anyone who is not Serbian Orthodox in religion. However, at these cultural events, we seek to celebrate different cultures and to bring the Serbs we interact with into that celebration. We have seen attitudes change and eyes being opened in a positive way through these events.
During the first year I was in Uzice, we ran a Balkan DTS. This was a fantastic time with a group of students and staff from 10 different countries, including Serbia, Bosnia, and Croatia. Because of the Balkan wars in the 1990's there was and still is a lot of division and hatred in the Balkans. One of the biggest testimonies of our group was people from these three countries traveling around and witnessing the gospel together. One Croatian pastor we worked with had a particular wall broken down and told us after our time of working with his church, "I never thought it was possible to work together with Serbs for the cause of Christ." This was was astonishing for me, a guy from South Texas, and only served to re-double my passion and desire to see the people of Uzice and this region reconciled with Christ and with one another.
Little did I know when I gave my choice to God, all that I'd experience in following after Him. I've seen His faithfulness in so many ways, and I know there's more in store.
~ Andrew
YWAM Tyler is a discipling center that pioneers. It's a little phrase we use because we continue to see different people and ministries impacting the world around us from the training they recieve with us. Come join a school and see where God might lead you to fulfill your purpose in advancing His kingdom.