We started off our YWAM Discipleship Training School (DTS) Outreach in Virginia serving at a Christian private school. Our DTS class was asked to be small group leaders at a middle through high school conference. As I was waiting at a table for the students to arrive, I decided to take the extra time to pray and seek God's heart for these students.
He lead me to read a chapter in Psalms, and as I was reading this chapter I clearly heard the name "Rachel" come to my mind. So I wrote it down in my journal, and in my heart I knew that there was going to be a girl named Rachel at this conference. I was confident God wanted to do something in her life!
The students arrived and filled up each table . . . except mine! There was one girl, and my hopes were high that her name was Rachel. It wasn't! Then my leader came and split us up and put me at a new table. Sure enough, there was a girl named Rachel at this table!
The rest of the 3 days went by and to be honest those days weren't what I had expected. The kids had no interest in what was going on at this conference! On the last day, our team had an opportunity to do a skit that seriously pierced the hearts of these students! We had their full attention! After the skit, we had a small group time, which opened the opportunity to be completely vulnerable, and vulnerable they were!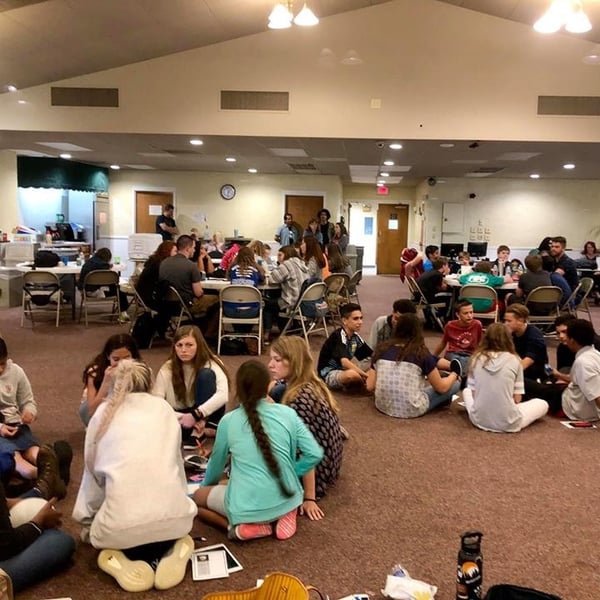 Each kid in my group opened up their heart and received healing from God. Teenage boys were crying and forgiving their parents from past hurts and so on! It came down to Rachel being the last one, and I knew God gave me her name for a reason. He wanted to do something in her life!
She opened up and shared with me all the pain in her life: the self harm, the rejection and abuse . . . things she had never shared with anyone came flowing out! It was now my turn to respond, and quite honestly I had no idea how to respond to her! She had so much hurt and pain. She'd been through things that I've never experienced; what was I to say to her? Then God whispered to my heart " ask her if she has Me in her heart."
So I asked, and she said no, with tears flowing down her face! I grabbed her hands and looked her in the eyes and asked her if she wanted to have Jesus in her heart and walk each day dedicated to him! She fervently said yes!! And so I was able to pray with her. That day God changed Rachel's life! I looked up from praying, and she had a big smile on her face. She felt loved for the first time!
I then began to share with her how much God loves her, so much so that he would give me her name before I even knew who she was! I showed her my journal and pointed out her name and told her that God had a special plan for her life and had this moment planned put before the conference even began! Her face this time filled with overwhelming happy tears because God had seen her and loved her!
What an amazing moment on outreach. 😃❤️
~ Guest Author: Haley Wesley, Recent DTS Graduate
What a great story, revealing why YWAM exists ~ To Know God and Make Him Known! Recently this outreach team returned from their travels, and Rachel is one of countless of people who gave their heart to Jesus during this time. We are thankful for the opportunity God gives us to go and make disciples around the globe. Join us for the next DTS. We have schools starting in January, April, July, and October. Not only will it impact your life, but God will work through you to impact others' lives too.