What are you doing? You can't sing!
In South Africa, as a child I loved to sing and I didn't care who heard me.
Unfortunately, this didn't last long because once I reached high school I was ridiculed for singing.
I joined the school choir at an early age, and continued to take choir in high school. One day, the school choir director pulled me out of our group and asked me to audition for the State Province choir.
The first thing that came to my mind was that I wasn't good enough, but I still perused the idea.
In the audition, I wasn't able to achieve what the director asked me to do. In other words, I completely bombed my audition.
On top of that my peers began to tell me how bad I was, that I couldn't sing and that I should just stop. This crushed me and I told myself I would never sing in front of other people again.
The only person I felt comfortable singing in front of was my Mom because she would sing along with me and not criticize me.
As years went by and I moved to America, I found my passion for singing again. This time it wasn't just singing songs that were on the radio, but it was singing songs of praise and worship to God.
My friends that surrounded me now would encourage me and tell me that I sounded lovely when I sang in worship. I didn't believe them and kept hearing the lies that were spoken over me.
After learning more about worship in DTS, and SOE, I grew an even deeper love for worship. I began to sing without any fear of what others thought.
What changed was that I didn't care what others thought because I was singing to my Jesus and I was pouring my heart out for Him in worship.
I eventually joined a choir and loved it. I even pursued some vocal training.
One day a friend of mine asked me to help them lead a DTS class worship time. Though this was extremely scary for me, I kept reminding myself that it wasn't for me but it gave glorify to God and led others into His presence to worship Him.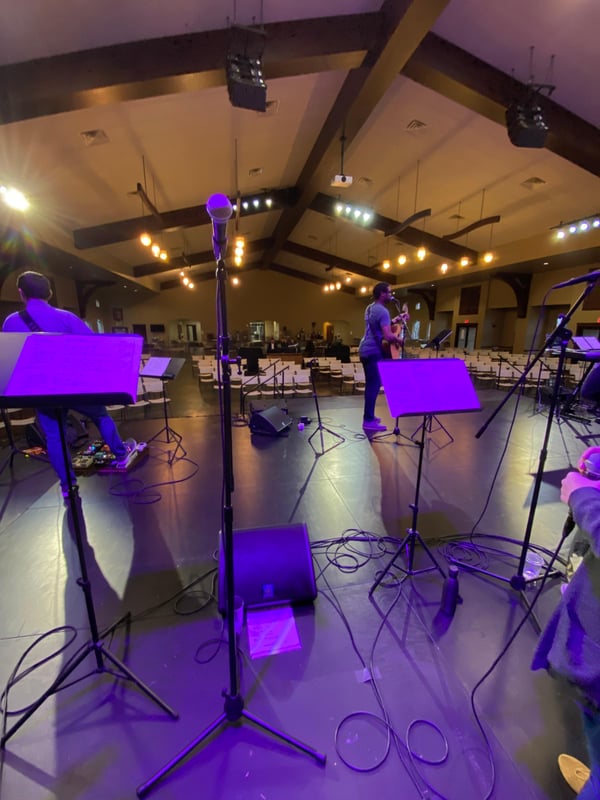 Fast forward to the moment captured in this image. I have stood on this stage about 4 times to help lead worship here at the YWAM base, and every time the enemy tries to attack me by reminding me of the lies others spoke over me.
The difference between when I was in high school and now is that I'm not singing to impress anyone, I'm here singing to God, worshiping Him for who He is and what He has done for me.
I'm here to honor and praise Him, and not to impress those around me. He is worthy of my praise, no matter how good or bad it may sound.
---
Ready to step into the freedom God has for your life? Take back control over your life and allow God to bring you peace and confidence. He loves you.