WHEN NATIONS AWAKEN TO JESUS | THE SEND BRAZIL
The rain couldn't stop 140,000 barefoot Brazilians from saying, "I WILL GO!" last weekend at THE SEND gathering...lifting their shoes up as a symbol of surrender to Jesus. We were there. We saw it first hand⎼a move of God calling people with sweet conviction to walk closer, draw nearer, and go further. It was received with reckless enthusiasm.
Can you believe God to awaken the nations to His calling?
THE SEND caused our Mobilization team to muster faith, and cast our hope upon the ocean of God's power. Like waves crashing onto the shores of the nations, we are discipling this generation to go like never before.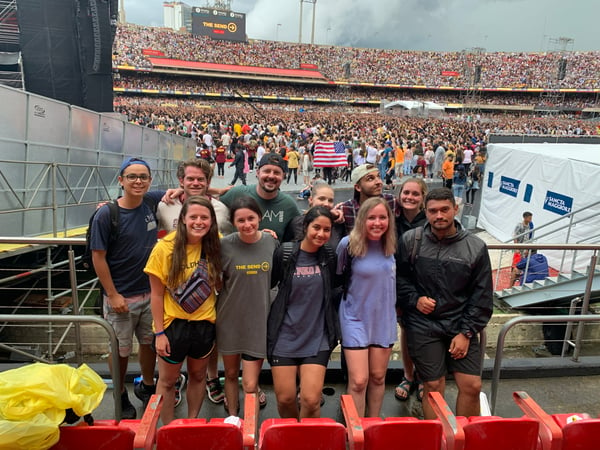 Team member, Haley Fisher, said, "One compelling reason I found The Send to be an important aspect of global missions is because it highlights the importance of Christians finding God's heart for the nations. As I saw thousands of Brazilians worship God in their own language, I also saw them receiving the Father's heart for their country. When we can see God's heart for our own country I believe we become more open to seeing His heart for all the nations. Sometimes God calls us across the world and other times He calls us to our very own schools, communities, states, and countries."
Anthony, one of YWAM Tyler's Mobilization department leaders emphasized, "For ages, gatherings of epic proportions in Jesus's name have acted as a catalyst to jolt generations together for the sake of the gospel. And, the Gospel at its core is about GOING! Outside the church walls, into the streets, neighborhoods, schools, and unreached areas of the world. This is why we gather."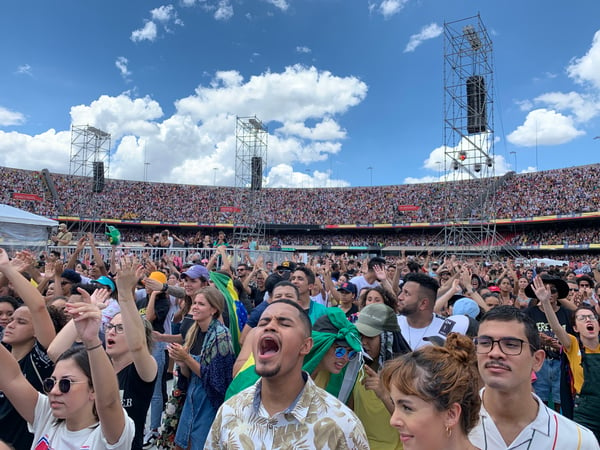 Haleigh Nordmeyer not only stood amidst the thronging crowd, but also led pre-event worship at a local house of prayer on the streets of Brazil. She wrote this in reflection.
"In Revelation 7:9, John shares a vision from the throne room that I believe is a picture of WHY the Send is catalytic to seeing the Great Commission fulfilled. He says "After this I looked, and behold, a great multitude that no one could number, from every nation, from all tribes and peoples and languages, standing before the throne and before the Lamb, clothed in white robes..."
"When I stood on Morumbi field with 140,000 believers from Brazil, and other nations from around the world, I felt the reality that is to come. Every tribe. Every nation. Every tongue. Jesus commissions everyone of us to "GO" to make Him known. There is no greater voice that compels my heart to be mobilized into this task than that of Jesus Himself. This is what YWAM is all about. We've all heard the voice of Jesus and our response is "I will GO!"
Seth Dale has been a core leader in our Mobilization department and he shares a great perspective on the global missions movement. "The Send is an important aspect of global missions because it is requiring a level of humility and unity not seen amongst ministries and churches in a long time. This cannot be the work of YWAM alone, or Christ for All Nations, Lifestyle Christianity, Dunamis, Jesus Image, or any single ministry. God is bringing about unity beyond barriers that have existed in the past. Because these leaders and ministries are willing to walk in humility and honor with one another, God is raising up an army through them that has never been seen before!"
YWAM Tyler is poised to equip everyone called into missions through deep honest discipleship. With training schools designed for teens, college bound students, bi-lingual learners, families with children, even retirees, we are up for the challenge of discipling the nations.
After the rain subdued in Sao Paulo, Loren Cunningham, graciously stepped in front of the camera to deliver a heartfelt call for Brazilians and all of us to join the next Discipleship Training School.
Loren, YWAM's founder, knows first hand the power of the DTS. Within its core teaching of knowing God and making Him known, the DTS stretches one's faith to believe in what is seemingly impossible and to join God in His awakening around the planet.
It's your time. It's your generation. We aren't idle, waiting and wondering if it's all going to be okay. The war on inaction has begun and we invite you to join the movement.
Over 2,000,000 have said, "YES!" Don't wait. Learn more today.
Read Fox News Report on THE SEND BRAZIL.
Historic' Christian event brings together 140,000 youth — and Brazil's president
Our Discipleship Training School and School of Evangelism were active in the ministry and mission of THE SEND.