Every year for the past 20 years I've read through the entire Bible. I remember the daunting task of the daily reading schedule and thinking there was no way I could do it. But I did! The first time it was a "resolution" of sorts. Now, I read everyday because I can't imagine a day without hearing from the Lord through His word.
Why read the whole Bible every year? I like how Corrie Ten Boom says it when asked why she read the Bible everyday.
"I know what it says for all time but I don't know what it says for today. Sometimes I wonder how the ink can be so dry."
When you pick up the Bible to read it, consider it was written just for you that day.
Over the years I've put out the challenge to others to consider a daily Bible reading plan to read through the Bible each year. Without a plan, it's about impossible. Have you always desired to read through the Bible but haven't? Or you've tried and "failed" completing the task? I totally understand. It's a big story and takes time to get through it all.
It's important to make daily devotions a desire and not a duty.
"God loves you just as you are not as you ought to be."
That's from Brennan Manning and important to remember. I struggle with doing things for God so He will like me more. Our relationship with God isn't like that. The offer for intimacy with Him is already laid out before us. All we have to do is walk with Him. We can walk with him everyday.
Oswald Chambers says,
"The lasting value of our public service for God is measured by the depth of intimacy of our private times of fellowship and oneness with Him."
If we are going to be effective for God in the world we live in, we must know Him deeply. The best way to know God is through His word, hands down!
This is why reading the Bible everyday is important to me. I want to live a life of purpose. I don't want my life to be wasted and I'm sure you don't either. As I daily open the Bible and read the words of life, I'm drawn closer to God, inspired in my faith, and challenged to live totally surrendered to Him.
It's not too late to start your new year and read through the entire Bible. Several from our missionary community here at YWAM Tyler are using a plan this year and we wanted to share it with you too. You can download the .pdf here. There's a little Old Testament and New Testament to ready everyday. By the end of 2023, you will have read the entire Bible.
Click the image to download the plan and hear what God has to say to you everyday of 2023.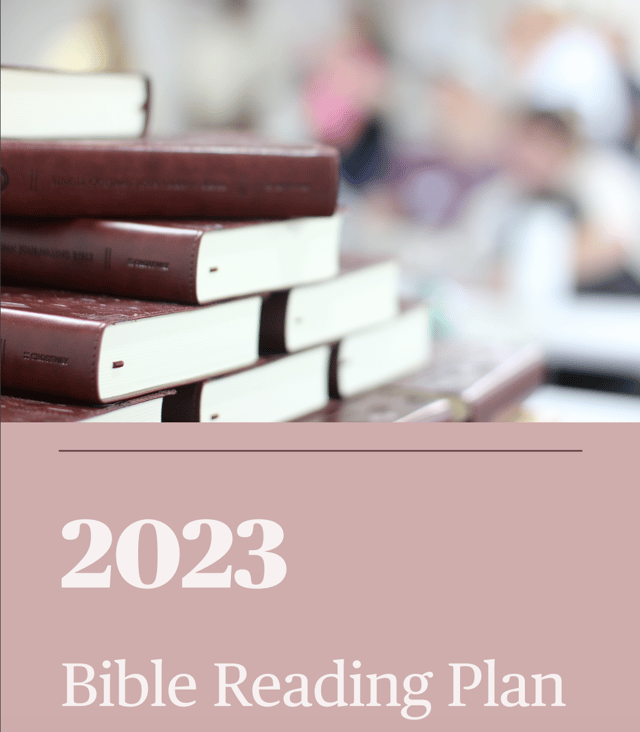 Reading the Bible is a discipline just like other disciplines. It's not "easy" but it's good. If you desire to know God more intimately and want to experience missions on a whole new level, consider a 5 month discipleship school. It'll change your life.