I suppose it is possible, but there can't be many YWAM missionaries around the world who haven't heard of Joy Dawson. When word spread of her death, the fruit of her ministry instantly came to mind. Many of us had the privilege of hearing her speak, and perhaps listened to her teach for a week in a YWAM training school, or read one of her books. Most of us have a story about her, or can share how she has impacted our lives.
Her son, John, brought a YWAM team to my small town on the backside of the desert in Arizona, and held a week of ministry there. Door-to-door witnessing, teaching every night, and prayer times were just some of the activities he and his team brought to our church and the larger Christian community. Before long, I was on a bus to California for DTS. Immediately after my Discipleship Training School, I heard there was a need for some help in the YWAM ministry of Truth Tapes.
Everything was on a cassette back then. It's hard to imagine that now. It wasn't that I necessarily felt qualified, but the one measly asset I had to offer was that I could type a whopping 40 words a minute. I was just 18 and inexperienced in life as a whole, but that is one of the things about YWAM that has stayed the same. You can end up doing things you didn't think you could, or hadn't even thought about doing. People believed in me. No one ever said I was too young or crazy to want to serve God full time. There was a need, and although the fit might have been a little rough, I was ready.
So, my first official job for the YWAM International Office in Tujunga, California, was transcribing tapes of Joy's messages. I would type all day on a manual typewriter⏤every word, occasional stammer, cough, etc., for the tape editor to remove. My typing speed improved rapidly! Not only was I hearing her latest messages, but I was a part of helping spread the truth.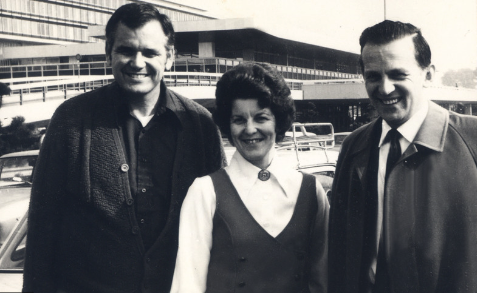 The daily prayer times in the office were led by Joy's husband, Jim. He was the "International Pastor," and he regularly heard from YWAM staff around the world who were pioneering in places like Brazil and Columbia. He would share the letters he received from all of those missionaries. It was like a school of prayer for me. It was during those hour-long times of intercession that I learned to hear from the Holy Spirit in prayer. Anytime Jim would say "Amen" to a prayer it was encouraging. I'd type out principles Joy shared in her teachings and then get to be a part of applying them in those prayer times. We were also on the front row to hear the answers to those prayers when reports came in.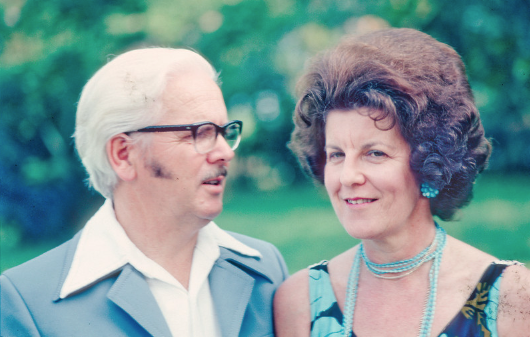 Jim and Joy Dawson
In one of the closets at the office, there was a Telex machine. It was the only way for rapid communication. Emails and faxes didn't exist yet. It was a thunderous apparatus that could send messages across continents. First, you typed out the message you needed to send onto a kind of ticker tape without any mistakes. Then you would feed the ticker tape back into it, delivering the message at a furious pace. Every single letter or digit cost money, so there was a sheet of abbreviations we used to make it as short as possible. Every morning one of us would check it to see if a prayer request might have arrived. If it did, we knew it was extremely urgent. Many times Jim would call Joy to let her know of the request. Not only would she intercede, but her ability to hear from the Lord was unparalleled and more than once helped us understand how to pray effectively.
Joy's name seems to be synonymous with the conviction of the Holy Spirit. God used her countless times to prepare hearts. So many times over the years, she would be at the forefront, readying crowds of YWAMmers for evangelistic events. I remember being in one audience one afternoon when she spoke and then proceeded to name different sins. All over the stadium, people stood up to repent as the topics changed. It was with military precision, we would stand up and sit down over and over. I repented for prayerlessness and other things in my life. God used her to turn situations around numerous times.
Before the Montreal Olympic Games in 1976, a YWAM team from Egypt couldn't bring any of their nation's currency to Canada to pay for their outreach due to some obscure law. Joy went onto a Christian television broadcast and asked everyone in the audience to send in three dollars. Hundreds of envelopes with three dollars started to arrive at the office, and enough came in to cover the Egypt team's expenses.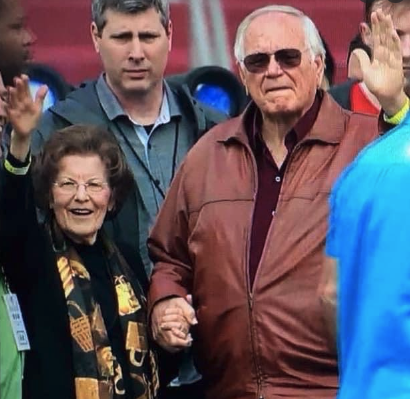 Joy seemed to be able to take on any challenge. I don't think it mattered to her if she was ministering to crowds, or one person at a time. She flew all over the world teaching. One day, at the office, Joy's daughter Jill asked if I could take Joy to the LAX airport because she and her husband John had a church meeting to attend. I said yes, but I couldn't help but wonder what that long ride to the airport would be like. I arrived at Joy's house to pick her up and managed to carry her suitcase to the car. This was in the days before weight limits on airplanes. It was pretty heavy, but soon we were off.
First, she politely asked if I had missed the church meeting that John and Jill were going to in order to take her, but I told her that I hadn't planned to go. She was friendly, and talked for a few minutes. Suddenly, it became very quiet in the car. I knew she was praying. I thought, oh no, what is she going to tell me? She proceeded to share one of her messages. Just for me. On the Rest of Faith. If you haven't had the opportunity to hear it, I would recommend it. A very brief summary is this⏤when you have prayed into a situation, or are overwhelmed or come to the point that you aren't sure what else to do, you simply throw it into the Lord's hands. Commit it to Him and trust that He is working. Timeless truth. I could go on and on about so many of her messages that impacted me.
She was full of life and laughter. Once when she and a couple of YWAM leaders were traveling together to promote an outreach, they would stayed in a different hotel every night as they traveled from city to city holding meetings. The YWAM leaders played a joke on her by dropping a room key into her purse each time they checked out, (this was before the plastic card era.) One evening they stayed in a hotel with thin walls and overheard her talking to her husband. She said, "Jim, I don't know what's wrong with me. Everywhere we've stayed I've turned in my room key but then I find it later in my purse." The two culprits confessed to her the next day and she thought it was quite funny.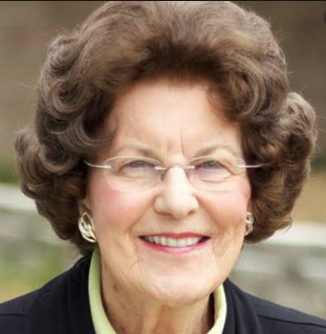 Joy described herself as "just a housewife" from New Zealand. Whenever you saw her, there was never a hair out of place. She was the same way on the inside. Her character was exemplary and unflawed. She had no seminary training, and had never even attended a YWAM training school. She just taught in those schools to multiple generations of YWAMmers. Her decades of devotion to prayer has changed multitudes and nations. There is no one like her.
Her autobiography, My Journey with Jesus is rich with amazing stories. When she was told how hard it was to reach the nation of Japan, her response was, "Hard for who? Not God!" She went everywhere witnessing to young Japanese people on the street giving them portions of scripture in their language, and leading several to Christ through an interpreter.
Joy used to say, "We don't need to be challenged, we need to be changed!" That is my prayer for all of us: to change and make an even greater difference in this world. Joy has a message entitled, What We Owe to Others for What We Are Today. I owe Joy much. YWAM owes Joy much. My prayer is that we will pick up where she left off, continuing to pray fervently for the nations and reaching the world for Christ.
---
Much of Joy Dawson's teaching still influences our training here at YWAM Tyler. Come experience getting to know God deeply and intimately. Your time here will not be wasted.